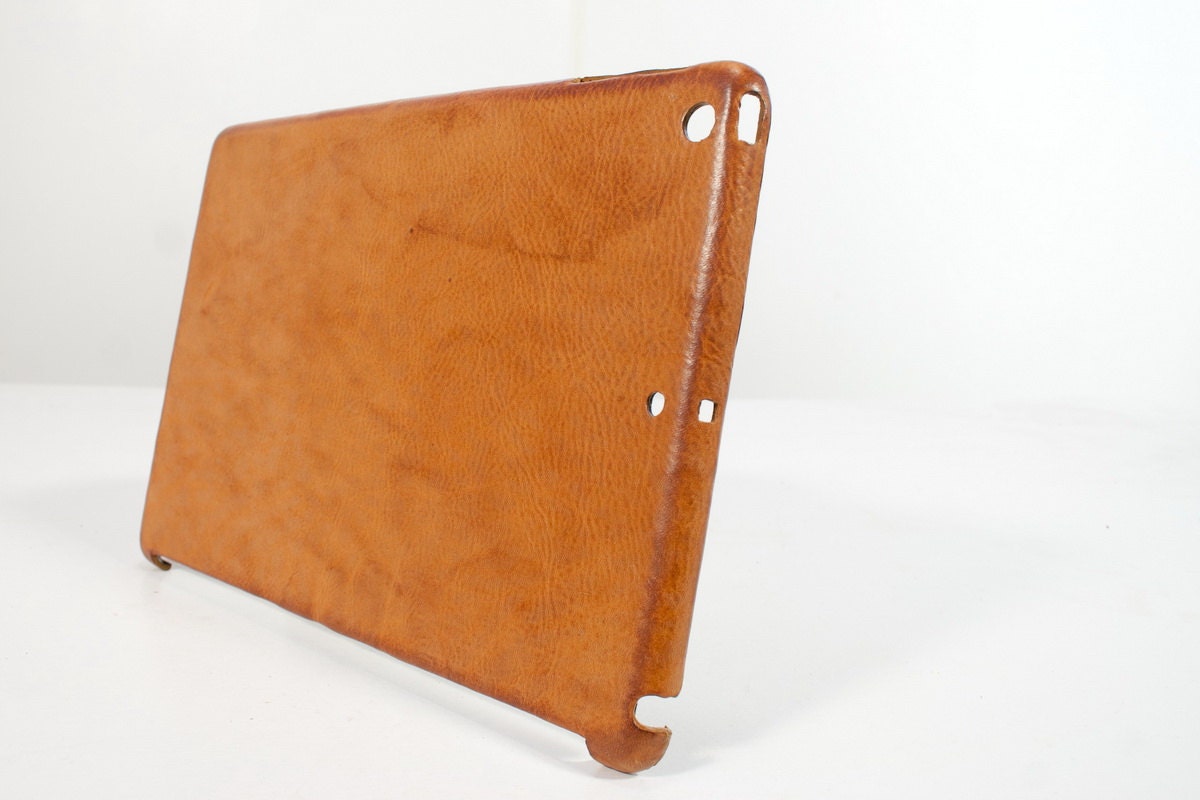 iPad AIR leather case made by genuine italian leather lined by fullgrain wildboar leather
iPad AIR leather case back made by genuine vegetable italian leather lined with fullgrain wildboar leather colour natural
Ipad Leather Case handmade in Tuscany. For IPAD AIR or IPAD (choose the device) made by vegetable tanned Washed aged leather.
Internal line by fullgrain wildboar leather green the same that uses GUCCI for the TOP level Bags.
NOTE: the item in photo is the AIR model
This IPad leather case is entirely constructed by hand in Italy for Your BELOVED APPLE DEVICE.

Traditional methods of aging and polishing brushes and waxes.Each piece is unique and different from another of the same model.
Iphone Leather cover thinked, designed and created in our workshop (you can't find another Etsy Shop that sells that item).

All of our items are handmade in the Maremma countryside in southern Tuscany. 100% Made in Italy.

We use only certified materials 100% Made in Italy.

The leather that We use is 100% Genuine Italian Vegetable Tanned Leather, from the best tannery in the world.

BREATH the SMELL of Natural and Real Leather handmade with ECO

sustainable process by Italian Tanneries, certified by the CONSORTIUM of Ponte a egola http://verapelle.it.

All the Tanneries of Consortium are ISO 9001 Certified.

"NOT ALL THE LEATHERs ARE EQUAL" this is NOT a Racist Statement, you only have to smell and you will understand what I mean.

On request it is possible personalize the article with the engraving by hand of Your initials or name.

Attention: the leather color may be slightly different from that seen in the photos due to the change in the pH value of each skin that I use and by the fact that they are hand-dyed.


The newest item added to my shop by TuscanLeather (72.00 EUR+ VAT)
http://ift.tt/1fxpBuB
Here a new leather article made in Tuscany by Our Workshop: Iphone leather Case, Ipad case, Bags, Bespoke orders, Messengers Bags all made by vegetable tanned leather certified 100% handcraft in Tuscany italy. You be able also the place a customized order made to measure and on personal request. Italian Tuscan Leather Craftsmen at work for you…